When was the last time you were excited? I mean really, really excited? Not 'hey, free coffee' excited, but I mean, through the roof, all-consuming excited?
Because I don't think I really have.
It came to my attention through, of all things, hockey.
You see, my hometown in just the past few years, has become home to an AHL team. While I'm not a sports person, I think it's been a big boost for the area and many of the venues contained within. And it seems to bring people together. Like, really brings people together, en masse as they cheer on their team. I mean, for some, it's like a ritual. They are at every game, they wear the paraphernalia, they know the players. It's all-in. So there's a lot of people enjoying it, which is great – for them, for the organizers, for the entire area.
And as the team progressed in their quest for titles or championships, or however it's referred to (Meg often shakes her head at me for not really having any grasp of these things), I saw people reaching a level of excitability at the mere mention of the team's name that I thought they would burst.
From social media, to news broadcasts, standing in line a day or so ahead of time, they were, as I say all-in like nothing I've ever seen.
And as I watched it all, I realized that aside from the birth of my son and getting married, I can't think of too many other moments where I've been bursting from the gut excited. In fact, Meg will tell you that I was more nervous than excited on our wedding day. So let's bring it down to the birth of our son.
So what's going on? Is there something inherently off in me that I don't seem to ever get that level of excited about things?
Of course, when I say never felt this way, I'm talking about adult-Dave. I'm sure, almost positive that as a child I felt that level of excitement. Heck, I see it in our little guy at something as small as getting to watch a cartoon he asks for, putting his hands together, a grin from ear to ear, looking like he's about to leap off the ground shouting "goody! goody!" or "oh boy! oh boy!"
I don't want him to lose that. The past month of seeing the excitement on the people of my hometown when it comes to their beloved hockey team shows me there's many out there who haven't.
So where and when did I? At what point did 'oh boy! oh boy!,' full of excitement Dave of youth become the 'huh. neat.' or 'that's pretty interesting' Dave that seems to be so detached from the world at times that nothing ever rises to that level of exuberance any more.
I'd like to find him again. I'd like my son to meet him. But honestly, I have no idea where to start looking.
Another book recently came our way from Independent Publishers Group – "One Gorilla" by Joy Dey and Nikki Johnson. Amid pages of watercolor images of various animals is a story of one good deed leading to another among the mighty creatures of the jungle, big and small.
The overall message of the book is great – that even one small act of kindness might be all it takes for a domino effect that changes the world, or your world at least. The animals of the jungle begin the story ready to pounce, to cackle, to frighten and to scare. But when a chimp, who often throws rocks and items at his animal neighbors, falls out of a tree and hits his head, he is the subject of laughter and ridicule by other animals. It's not so nice being on the receiving end, the chimp learns. A helping hand from an elephant, who knows the hurt all too well, marks a sudden change in the jungle. The laughter stops, and the chimp begins to show the same kindness the elephant gave her. And it spreads through the jungle, even to the smallest turtle.
I really liked the message the book set out to deliver, and the watercolor images to accompany it are honestly unlike anything I've seen in a children's book so far.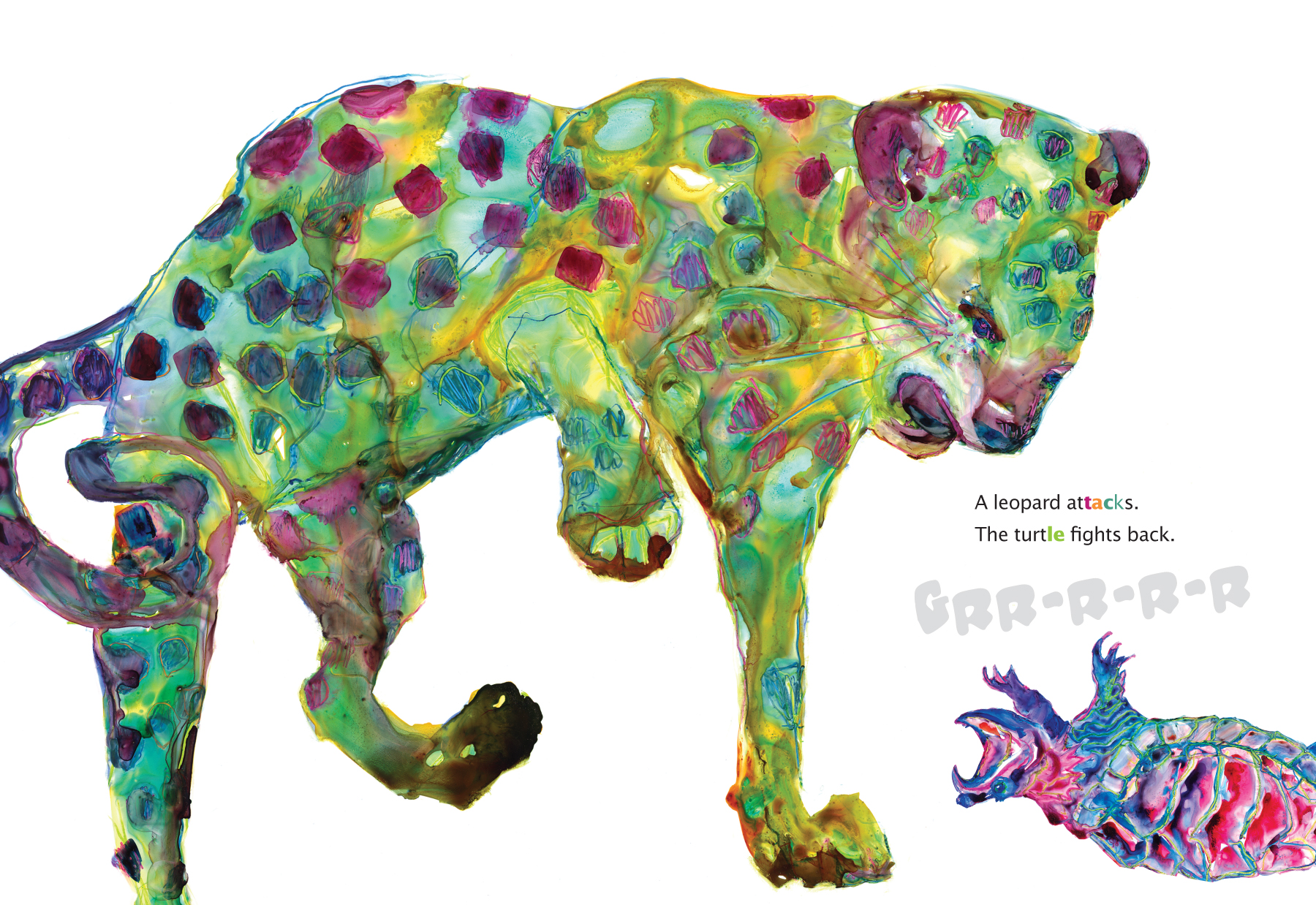 I admit that it took me a little bit to register everything that was going on as we read.
We read this book, blindly, at bedtime, and the first part of the story, with the animals ready to hunt, prey, laugh, etc, alongside the splashes of paint, made some of the creatures seem a little nightmarish. But I quickly learned this was an intentional decision, as it sets up the jungle as a scary and not so kind place, leading to the change when one good act leads to another.
As we turned those pages, our 2 ½ year old there with us, I became a little anxious, unsure of where the story was going. In the end, I was able to see exactly what I think the author and illustrator set out to do – create a world of fright and mean behavior in the jungle, until one elephant acts kind enough to set off a chain reaction of good actions.
It works, and while I may have been apprehensive at first, I should have had more faith in my own son's ability to grasp it, which he did far quicker than I. He knew the animals were acting bad at first, but started to be kind once they saw an example of it. And it must have struck a chord, as it wasn't long before he asked for "the gorilla book" again.
Although I have a lifetime of parenting to regret this statement, at this stage of the game, one of the most frustrating parts of parenthood is when your kid is sick and there's nothing you can really do about it other than let it run its course.
The little guy is currently under the weather (an appropriate phrase, I guess, as it's been cool and rainy the past few days). At first we thought it was allergies, but a few days in and suddenly it was more than red, itchy eye. The eye is not longer red, but there's trouble sleeping, coughing, a runny and sniffly nose, and a fever (which, based on the past, always puts us a bit on edge).
The past two nights he hasn't slept that great, either coughing throughout the hours or just plain crying. This morning, his fever was gone when he woke, but as the morning progressed has gone back up again. He's coughing, but not as 'croupy' as he was last night, and he's in good spirits, playing (albeit a little slower than normal) with mama (who, also isn't feeling all that great as of today).
Per past experience with his fever/seizure episode, we've been using Little Remedies Fever Reducer to try and keep the fever down, and make sure he has plenty of fluids, starting out his day with some orange juice and apple juice, per his own request. When he's in his room and/or sleeping, we run a cold mist humidifier to hopefully break up the stuffiness in his head.
The dreary weather, I think, is actually a blessing in disguise, as the last thing I think either of us would want to do is argue with him that he wants to go run around outside because it's sunny out. So it's the perfect weather to let him play, relax, watch some cartoons and just try to take it easy. Although that's a relative term. Telling him to relax and rest often leads to a whirlwind run about the entire house.
Still, it's frustrating, knowing there's only so much you can do. But I suppose that's what a lot of parenthood is about – doing your best for your kid, but knowing when you have to just support and let him (or in this case, his body and immune system) do his thing.